World Youth Day 2023
July 31, 2023- Travel Day
On July 31, 2023, our vocation director, Sister Mary O'Donovan, and Sister Mary Josephine depart Dublin, Ireland airport to travel to Lisbon, Portugal to participate in the World Youth Day 2023. The World Youth Day is a Catholic festival held every three years and was originally scheduled to be celebrated in summer 2022. Due to the ongoing COVID-19 concern, it was moved to 2023 and was announced by Pope Francis at the closing Mass of World Youth Day 2019 in Panama City, Panama. The theme of the WYD is "Mary Arose in Haste" referring to Mary's visit to her cousin Elizabeth. Sister Mary and Sister Mary Josephine will be joining thousands of young people who attend to nourish their faith, meet new people, and celebrate the beauty of their Catholic faith with the Successor of Saint Peter and other faith-filled pilgrims. How blessed we are to follow our own pilgrims' way as they share with us their experience! Visit our website for continuing updates and photo journal!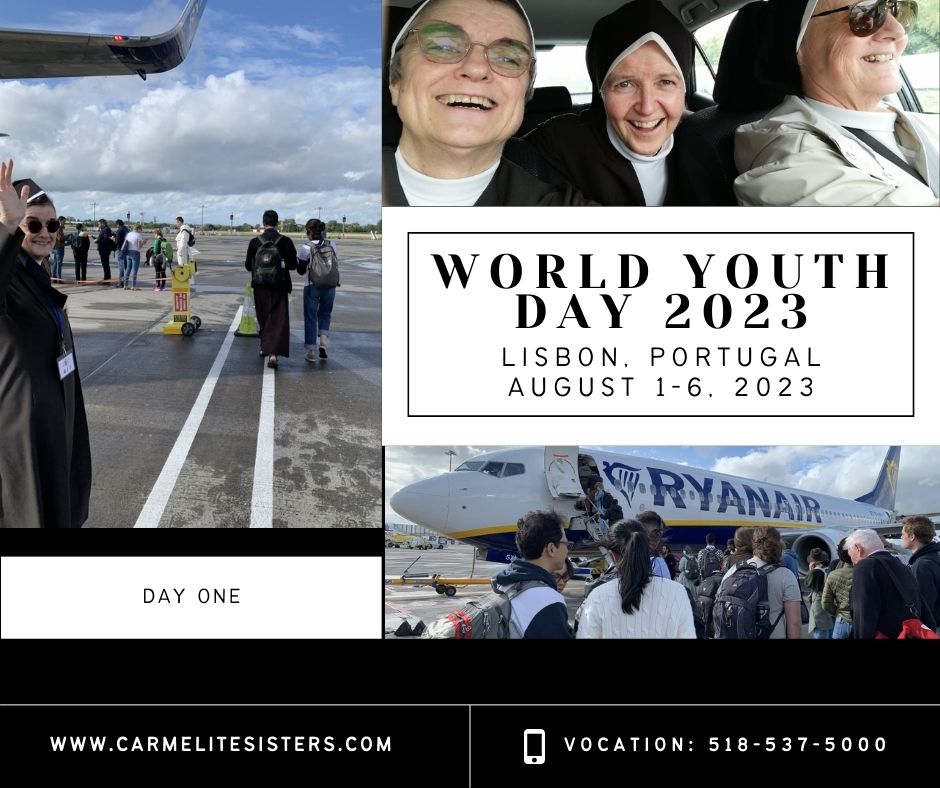 August 1, 2023
Story Contribution: Sister Mary O'Donovan, O.Carm.

We got to Lisbon 2 hours after we were due to arrive. We got there at 10 pm and walked for a long time dragging our suitcases through cobbled streets. We were given sleeping bags and blow up mattresses. We were sleeping at 3am in a huge gym and got 4 hours of sleep. We will be attending the Opening Mass tonight at 7pm. This trip is certainly not for the fainthearted. Temperature in Lisbon was very hot!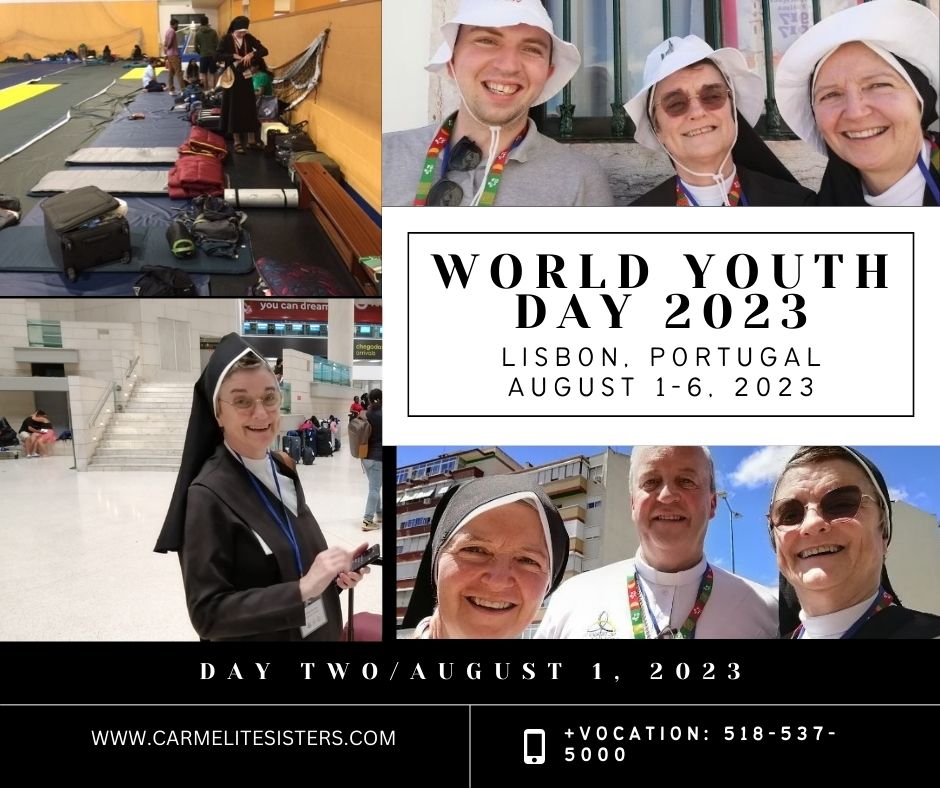 August 2, 2023
We attended Mass this morning with the youth from Singapore, Australia, Philippines, Ireland and The Bronx. We traveled to Strada Centre for lunch. We then took the metro and bus to Christ the King Church for evening prayer with all the youths from Ireland and their bishops. We mingled with all present later and met some new friends like Ada, volunteer of the hosting parish where we have Mass each morning (top left photo). We had a group photo taken with the youths from Our Lady of Mt Carmel Parish, Bronx NY (top right photo). We stopped with a group of new found friends for a cool down with some ice-cream as the temperature was in the high 80's (lower left photo). And finally, we met Sr. Catherine, Apostles of the Sacred Heart of Jesus from Houston, Texas, another new found friend. (lower right photo)
August 3, 2023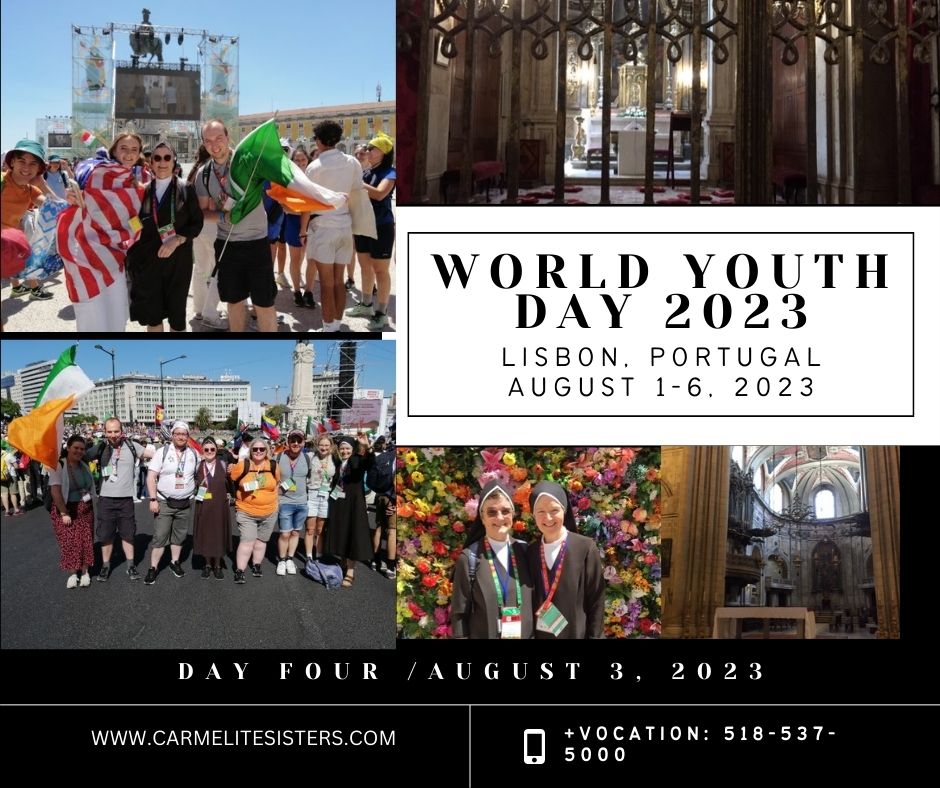 After the morning Mass celebration by Bishop Nicolas of Westminster, we had some free time and visited Lisbon Cathedral (top and bottom right). We also visited the birthplace of St. Anthony of Padua. We then walked 4 miles to welcome Pope Francis as he arrives in Lisbon for the WYD. What an awesome experience! We met a group from the Diocese of Armagh (bottom left) which is the Diocese our pilgrim group is associated with. We also met a lovely young lady from Boston! We will keep you posted as we move forward.
August 4, 2023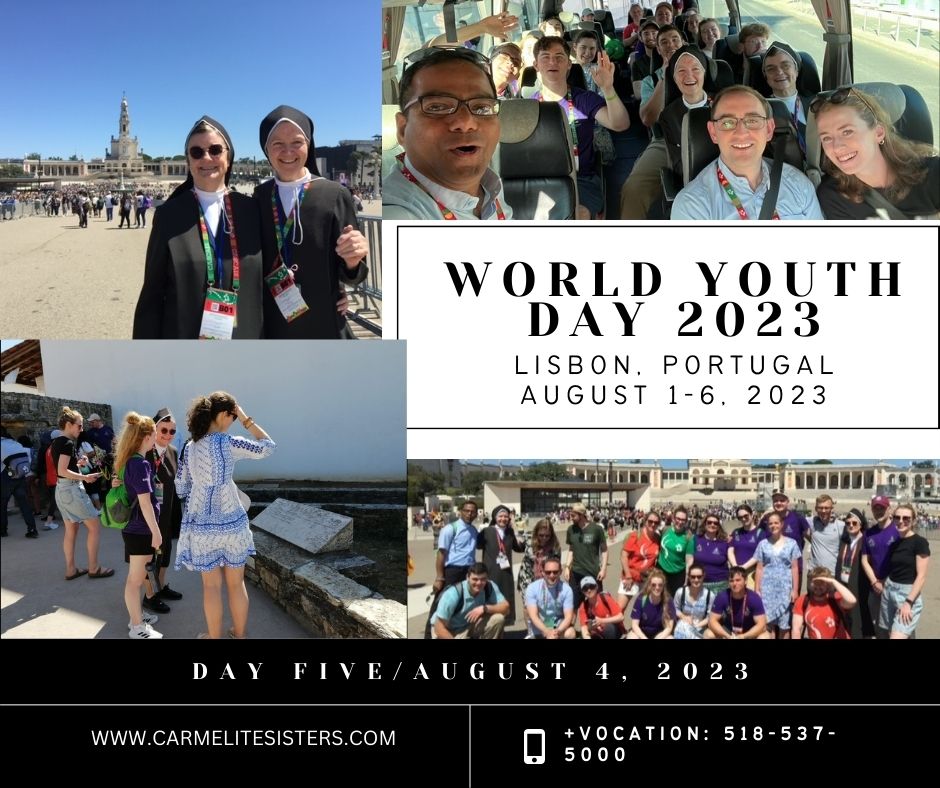 We had an early morning rise at 6am. Took taxi to meet a group from County Galway and County Mayo for a trip to Fatima. We traveled by coach to Fatima which took two hours drive. It was a beautiful ride as we sang hymns to Our Lady and recited the Rosary. After we reached Fatima, we attended Mass that was concelebrated by 100 priests! How appropriate that this was to happen on the feast of St. John Vianney, the patron Saint of parish priests! We also visited the home of Saint Francisco and Saint Jacinta, the two visionaries of the Fatima apparition. We ended the day and traveled back to Lisbon arriving at 7:00 pm.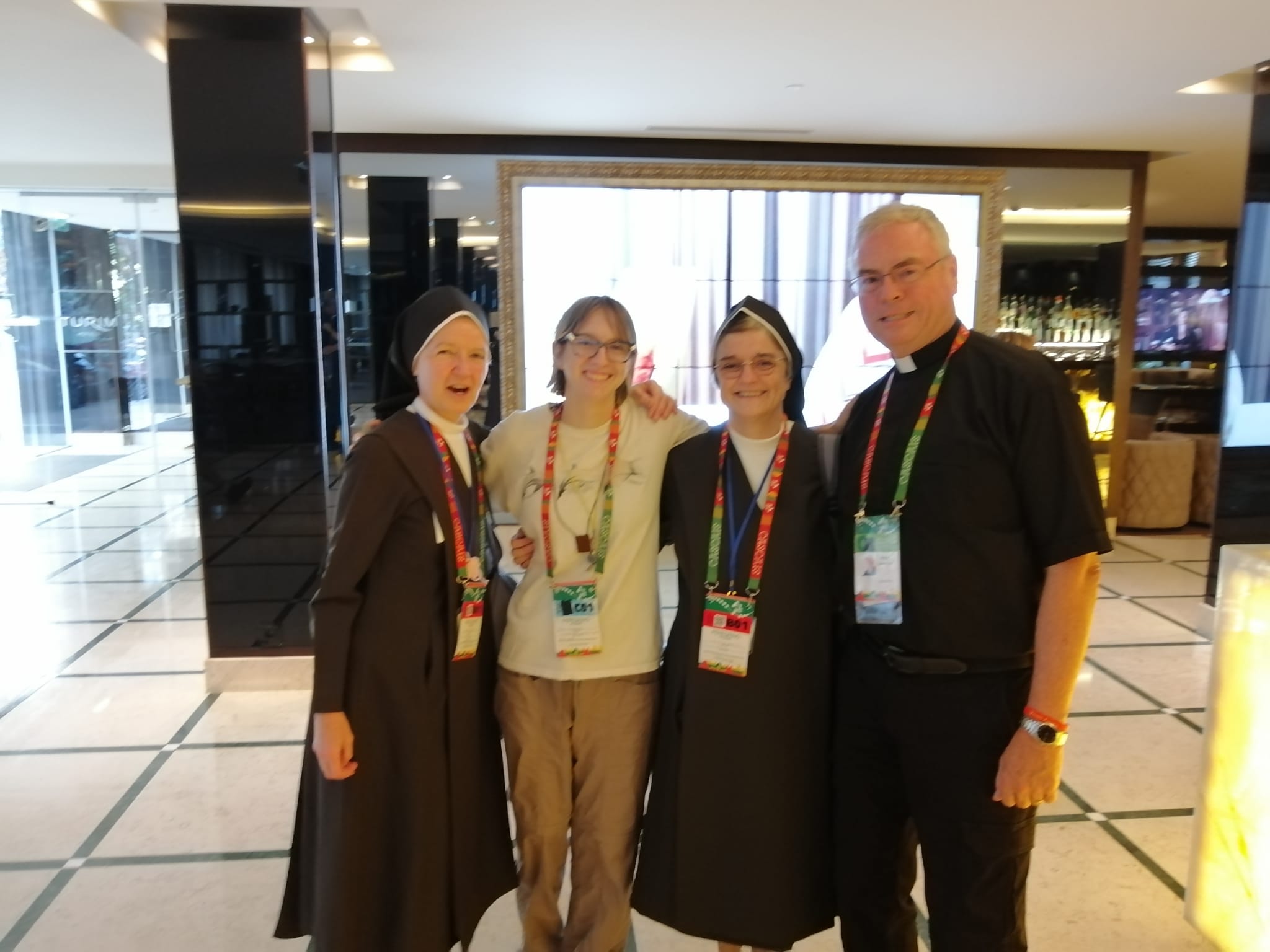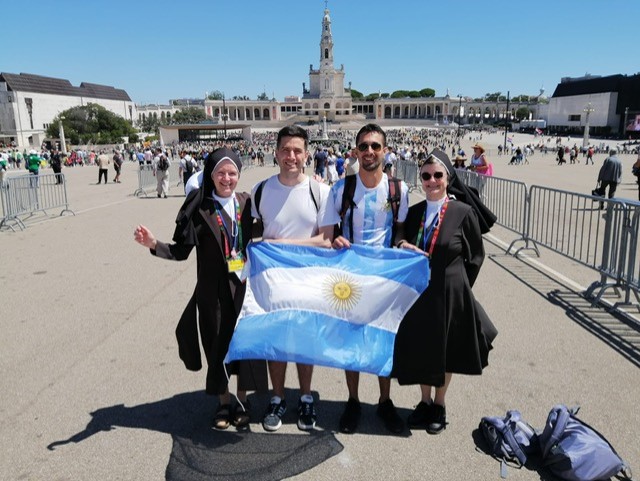 August 5 & 6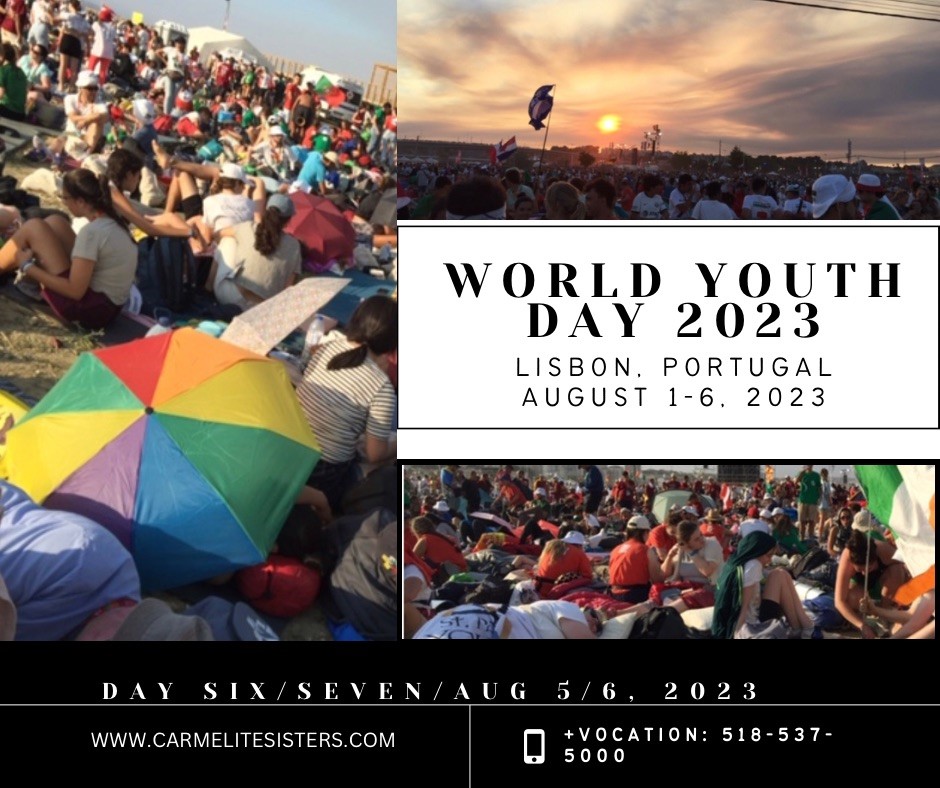 Attended Mass celebrated by Bishop Michael, Auxiliary bishop of Armagh who traveled with our group. After Mass, two buses and train, we walked 3 + miles to a park in 97 degrees heat. We will camp out overnight until Pope Francis celebrates the closing Mass at 9 am. Then we walked back 3 + miles to access the nearest transportation. There were over 1 million youths here from all over the world. We camped out overnight until Mass the next day with Pope Francis. Exhausted as we made it back to our house!
I hope you enjoyed joining our pilgrimage through this journal. It was truly an amazing and blessed experience for Sister Mary Josephine and I.

Signing off from Lisbon!

- Sister Mary O'Donovan, O.Carm.